Rogue Kills Decreased?
Posted by xorth
Experiencing your Rogue Kills being rolled back or decreasing? So are many others. Here is a thread about it on reddit.. We just consume the data, the issue is on massive/uplay end. Please open a support ticket with them!

Thanks.
Steam Sign-In Fixed
Posted by xorth
Our green sign-in with steam was down, apologies about that. Should be back to working!
We released an Overwatch site!
Posted by xorth
Play Overwatch? Need a Tracker? We got you covered. We have released Overwatch Tracker with Stat profiles, Leaderboards & more to come.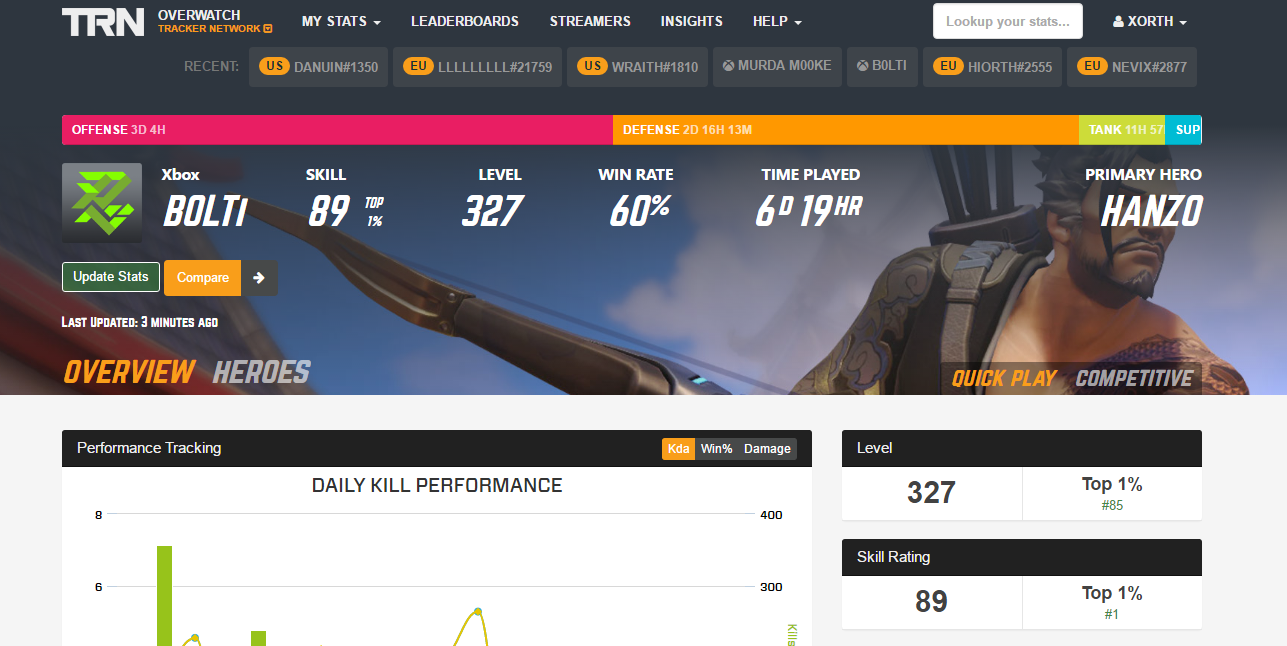 New Stats Available for PC Players
Posted by sgt frankieboy
We have added new stats for people who play The Division on PC!

Here they are:
These stats are only available for those who play on PC. This data is not available if you play on Xbox One or PlayStation 4.
Regional Leaderboards
Posted by xorth
Bug Fix
Some of you were having problems showing up on the regional leaderboards. Those bugs should be squashed. Sign up now! Sorry for the trouble. Reply to this thread if you have any more questions.

Custom Stat Headers
I've gotten quite a few questions about how can you customize the top of your stats page. Becoming a premium user is how! Check it.

Cheers!
Announcing The Division Tracker!
Posted by sgt frankieboy
Welcome, Agent!


We know you're hard at working making Manhattan safe again (unless you've gone Rogue), however you sometimes just want to show off some of your stats to your allies. That's why we're pleased to announce DivisionTracker. You might already be familiar with DestinyTracker or HaloTracker.
With the introduction of DivisionTracker we will have some basic statistics available for all players on all platforms.
Your Profile
Here is a list of all the available data we have at the moment, we're hard at work getting more!
Playtime - How long you've spend roaming New York
Player Level - Your regular in-game level
Darkzone Level - Your level you gain in the DZ
Completion - Completion percentage of the Main story
Kills - Total amount of enemies you've killed
Items Extracted - The gear you've extracted from the DZ
Skill Kills - Kills you've made using skills
Rogue Players Killed - Amount of rogue players you've killed
On your profile page you will see the previously mentioned stats with graphs so that you and others can follow your in-game progress daily. Some of the graphs included kills by day, playtime by day and how many items you extract every day. To keep these stats up to date you would need to visit your profile at least once a day.
The Leaderboards
We also provide leaderboards for all players that have their account searched on DivisionTracker. These leaderboards are available for all stats. You can even sign up to join our regional leaderboards to see how you rank against players in your country.
Thank you
We hope you enjoy the site. If you have any feedback you can provide it on our Help Forums.